Recently my desire to create had been absent and I felt like my muse had left me and I had lost my creative mojo. Sound Familiar?
I know I am not alone in this, hence why I am sharing my thoughts and suggestions today. Often due to life in general we can lose our desire or simply time on our busy schedules to create and then when we go to get back into things we can't - we feel like we have lost our 'mojo'. Often when we lose our 'mojo' it announces the arrival of self doubt and self criticism.
For me, I find my creating very therapeutic and I call it my Sanity Keeper, so when trying to get back my mojo and into my creativity I often find myself looking through some of my art books and other art stuff which I am sure you probably do to when you are at the point of needing inspiration to create and find your mojo again.
Looking for mine recently brought home a good reminder of ways that have worked for me in the past and I quickly rediscovered my creativity.
It started with a weekend away with my girlfriend which included a trip to the Scrapbook Expo and to the State Art Gallery, my friend has recently started watercolor painting and is a paper-crafter and it was her first visit to the gallery. At the gallery we spent a few hours exploring the exhibits and interpreting the style, evaluating the brush strokes and guessing at the titles of the more abstract works and laughing at what they were, compared to what we thought they would be. We were amazed by some of the gaudy and ornamental frames of the more dated works etc. I am sure you get the picture. It was a most enjoyable day, and put things back into perspective for me about art in general.
The other art stuff which reminded me where to look was my Art Journal Caravan 2014 notes. The overall theme for 2014 is using the Masters as our Muse and so I went back to where I have missed from - Week 8 (yet another reason I am feeling bad given we are now in week 25).
The Main themes for Week 8 which resonated with me as I perused these pages again were the the creative prompt - CONNECT and the included study of Jackson Pollock who is famous for his abstract works.
It was one of his works and two quotes that spoke to me from these pages and lead me to finding my mojo, so I thought I would share them with you today.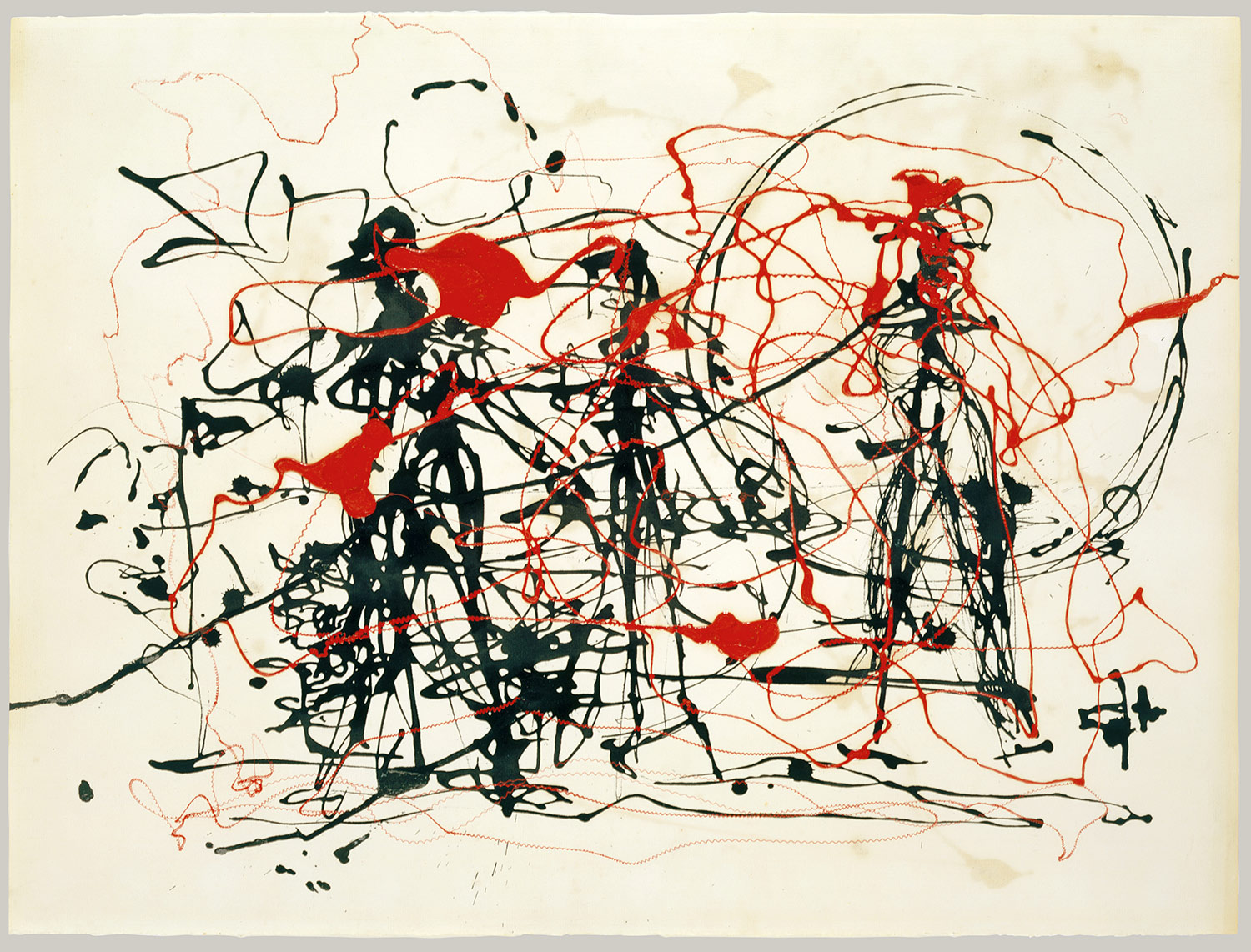 Untitled, Jackson Pollock 1949.
'I want to express my feelings rather than illustrate them' Jackson Pollock
It is important when in search of your creativity you don't put added pressure on yourself by trying to work on a set project ie. your next Design Team project or commission or that card for your work colleagues wedding next weekend.
STEP 1. RELAX AND RECONNECT
Scribble - with no rhyme or reason simply pick up your favorite medium be it paint, pencil or other and simply scribble, doodle, brush, color and draw all over the page. Connect with the medium, the page and your feelings at that moment (be it the feelings you need to let out and then the feelings you are experiencing as you go through this process).
'I have no fear of making changes, destroying the image, etc., because the painting has a life of its own.'
Jackson Pollock
STEP 2. REVISIT AND RECREATE
Think of your favorite or a famous Artist and look them up on Google and read about them! Peruse some of their works, their thoughts and story and find something that speaks to you. Why does it speak to you, What is it telling you! Interpret what it is telling you, think about what you like about this work, is it the colors, the shapes, the style. Very often famous artists have famous quotes, use them to change your thinking about your own art.
Using a work such as one from the above Artist as inspiration or even a project in a magazine you like or even something you have created before and love, recreate your version of it. Again this is to simply to get you connecting with the process of creating.
These steps have worked for me, I guess the overall point of this process is to not fear making a mistake and just go with the flow and see where it takes you.
I'd love to hear your thoughts on how you find your creative mojo again when it goes missing! Leave me a comment and let me know what you do!.